7Songwriters
7Songwriters is a song series that showcases composers and songwriters of cross-genre: musical theater, jazz, classical art song, pop, folk, hip-hop, experimental—multidisciplinary musicians whose work in-between genres defies definition or any one label. These are melodies in search of an ear, hidden gems slipped through the crack; new poetry, words, and lyrics set for the voice.
Past Shows
7S: SWING
April 29, 2018 at 7:00pm
Zinc Bar
82 W 3rd St, New York, NY
(1 block south of Wash. Sq. Park)
ZOSHA WARPEHA, a genre-crossing ~violinist, vocalist, and composer~ writes songs that blend solo voice, five-string violin, and often a hardanger fiddle, a traditional instrument of Norway. Her melodies embrace the resonance and shimmering qualities of its sympathetic strings. Steeped in improvisation, space, and texture, Zosha draws inspiration from a wide range of folk traditions and contemporary music, creating wisps of material ~not developmental ~here and gone.
FAY VICTOR, hailed as 'artistically complete' by the New York Times is an ~improvising vocalist, composer, lyricist and educator~ riding all the chasms and seams of musics that are improvisational and conversational in nature. Fay will be performing works with her new band project, The New Blues, bridging the divide between chamber music and the blues. Featuring cellist Marika Hughes and bassist Sean Conly.
ROBERT FLEITZ ~pianist & composer~ performs a handful of his touching and hilarious art songs with soprano Chelsea Feltman. Featuring the second world premiere of the critically acclaimed monologue for soprano (and occasionally theatrical pianist) "Basic Bitch, City Witch."
BONOMO, formed by ~singer-songwriter~ Adam Bonomo, writes music transcendent of one genre, fusing influences from gospel, folk, jazz, and classical. Hear him perform a solo set of songs at the piano, showcasing his unique approach to unifying musical traditions and audiences through music.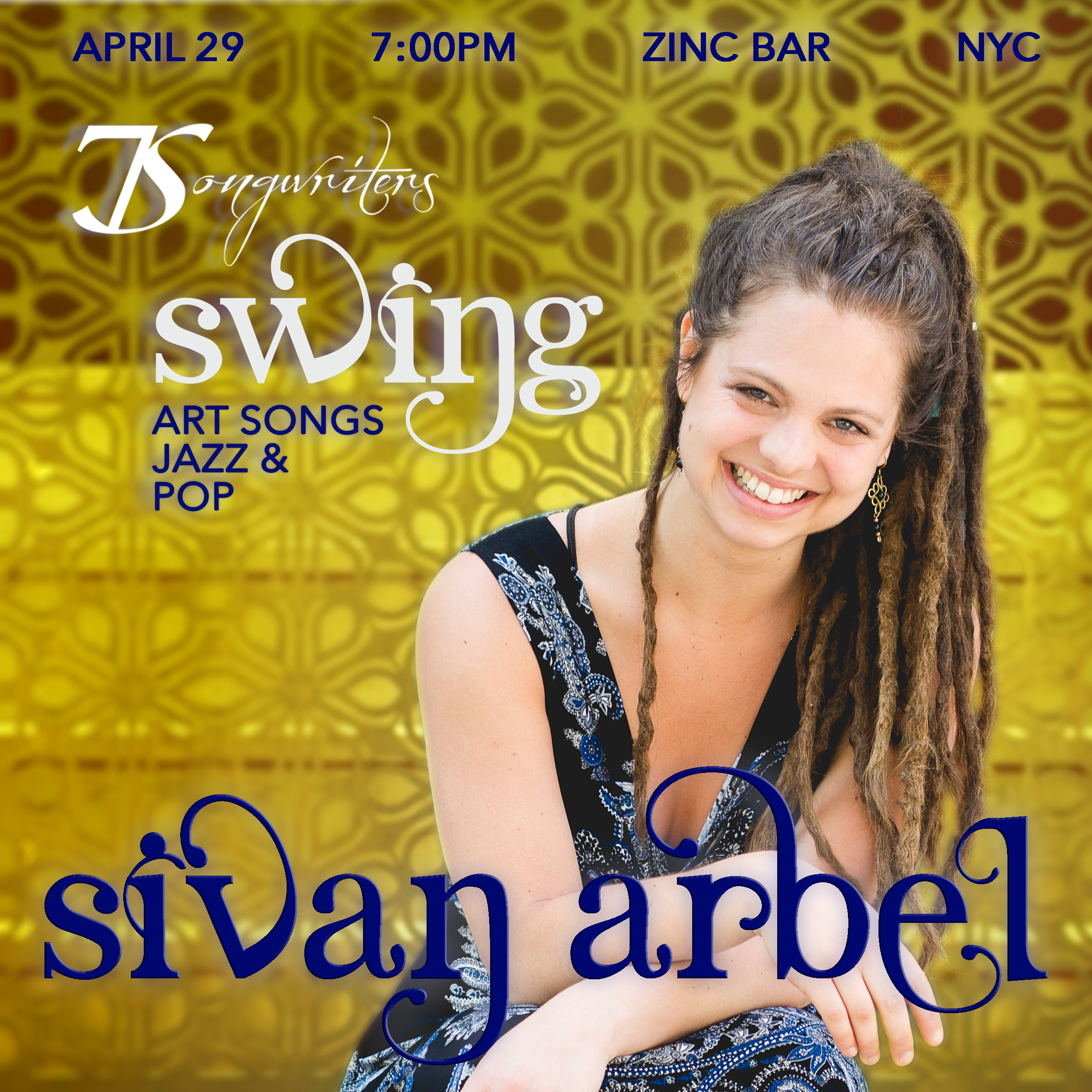 SIVAN ARBEL ~Israeli jazz vocalist, composer and arranger~ sings a set of new songs with her quartet. A new staple of the NYC jazz scene, Sivan released her debut album "Broken Lines" in late 2016 to international recognition and media coverage. Her set also features Lex Korten on piano, James Robbins on bass, and Evan Hyde on drums.
EMI FERGUSON ~flutist & composer~ plays a solo set of new and recent songs, including from her debut album "Amour Cruel," an indie-pop song cycle inspired by the music of the 17th century French court. Hailed by critics for her "tonal bloom" and "hauntingly beautiful performances," Emi's unique approach to the flute can be heard in performances that alternate between the Silver Flute, Historical Flutes, and Auxilary Flutes, playing repertoire that stretches from the Renaissance to today. As a performer, composer, educator, and arts administrator, Emi stretches the boundaries of what is expected of modern-day musicians.
MATTHEW EVAN TAYLOR ~composer & improviser~ premieres three scenes from his opera THE WARRIOR'S WIVES, a tragic opera in two acts that tells the stories of three women–Ikuku, Imiri, and Oku–married to the warrior, Ekpe. Inspired by Chinua Achebe's "Things Fall Apart," the opera addresses issues of patriarchal oppression, familial duty, motherhood and loyalty, romantic love, and vengeance. Featuring the vocal talents of Mary Claire Curran, soprano; Jonathan Z. Harris, bass-baritone; Robin Clifford, soprano; Andrés Peñalver, tenor; Felix Jarrar, piano.
7S: Witchy Women
October 15, 2017 at 6:30pm
Whitman & Bloom
384 3rd Ave, New York, NY
(between 27th and 28th)
: downstairs speakeasy lounge
Witchiness is the darkest form of charisma.
This concert features female composers of musical theatre and art song. Join 7Songwriters for an evening of new works by Witchy Women with ferocious charm.
ALAINA FERRIS sings excerpts from her theater piece "Raid 2.0 / Myrmidon," which is about video games, trauma processing in virtual spaces, and how the dungeon raid is a direct mirror of choral performance.
RONA SIDDIQUI showcases a diverse set of musical theatre songs, including from her musical "Salaam Medina: Tales from a Halfghan," which confronts the issue of identity through the unique and confusing experience of growing up as a "half-breed" in America, while jamming to eighties and nineties pop, contemporary folk, and middle eastern grooves. Performed by Alex Tripp and Sherz Aletaha.
AYA AZIZ, a songwriter and performance artist, channels her distinct hip-hop/R&B style into political raps and vocal percussion loops; honest stories of her Egyptian-American heritage and existing in the in-between.
HARRIET STEINKE premieres her song cycle "Under The Gold," an imaginative setting of Jean Valentine's (b.1934) dreamlike poetry. Performed by Whitney Cleveland, soprano; Nevada Lozano, piano.
LACY ROSE, lyric poet, regales you with the elegiac tale of "Ria Munk," her new song triptych based on the Gustav Klimt paintings, accompanied by guitarist Colin Fullerton.
RACHEL DEAN performs songs from her musical "Medusa" (opening Off-Broadway next year), a feminist re-telling of the Greek myth. Co-authored by Wes Braver. Vocals by Kai An Chee and Emily Chiu. Andrew Drannon on piano; Danny Ursetti on drums/guitar.
KATYA STANISLAVSKAYA presents songs from "Going South," her musical that shines a light on outdated and outrageous laws on divorce, discrimination, gender/bathroom issues, and campus rape in today's American South. Performed by Matthew Hardy and Christiana Cole.
7S: Concert One: July 24, 2017
July 24, 2017 at 7:30pm
Scholes Street Studio
375 Lorimer St, Brooklyn, NY